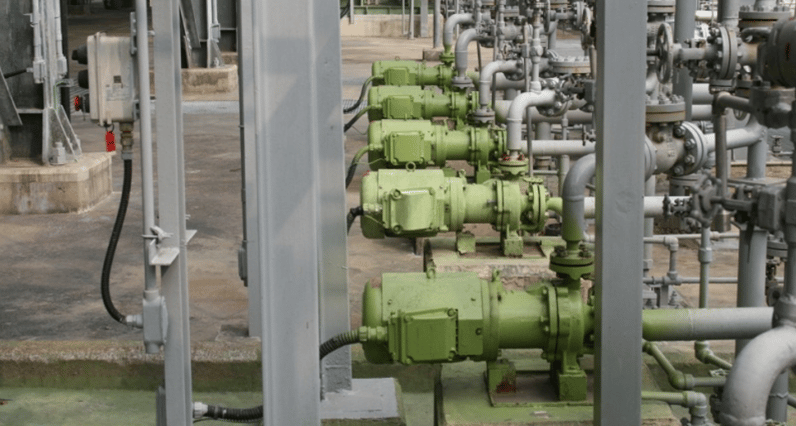 Sealless magnetic drive pumps offer greater reliability and user safety over traditional mechanically sealed pumps because they completely contain liquids during the pumping process. This feature gives assurance to industries processing hard-to-seal hazardous or volatile chemicals that can impact environmental and health and safety requirements.
This guide is focused on two broad categories of industrial pumps: mechanically sealed pumps and sealless magnetic (mag) drive pumps.
Mechanically sealed pumps are lubricated and cooled by leaking fluid as they operate. As the seals wear down, they leak greater amounts of liquid, which can lead to process inefficiency, decreased workplace safety, and increased maintenance costs.
A sealless mag drive pump is a traditional centrifugal pump without the mechanical seals that are normally used to seal the pump shaft. There are no parts to wear. A static containment shell replaces the dynamic seal to form a liquid barrier. Movement energy is transferred to the pump's hermetically sealed liquid end by a set of outer magnets that rotate, transferring the magnetic force through the static containment shell (fluid barrier) to drive a set of inner magnets, thus turning the impeller.
Sealless mag drive pumps provide the significant benefit of zero leakage and are better for pumping not only corrosive fluids, but expensive fluids where yield is paramount.
The Many Advantages of Sealless Mag Drive Pumps
1/3 the number of parts of conventional types
No mechanical seals or flush lines
Easy installation - minimal or no piping changes
Close-coupled design - no alignment needed
Zero emissions for EH&S
Interchangeability - minimal spares and parts inventory
Wide range of standard features
Lower cost of ownership
Products Focus
The Backstory on Sealless Mag Drive Pumps
Since the original development of mag drive pumps by HMD Kontro in the 1940s, they have gained widespread acceptance.
Our focus is on three quality sealless mag drive pump manufacturers: HMD Kontro, ANSIMAG, and EnviroGear®. All meet ANSI and ASME standards. ANSIMAG and HMD Kontro are centrifugal brands of Sundyne LLC.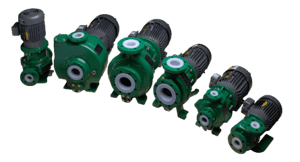 ANSIMAG is a reliable, ETFE, nonmetallic-lined mag drive pump that can safely handle a wide range of chemicals, including acids and caustics up to 250°F (121°C), without corrosion. These pumps will go up to a maximum 100 hp and are attractively priced. Despite the lower temperature limit, ANSIMAG offers an economical alternative to an exotic metal pump.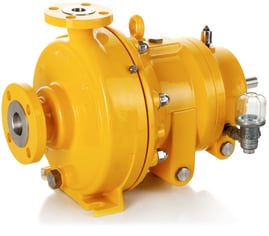 HMD Kontro innovated the original sealless mag drive pump in 1948. It is particularly suited to the handling of high-temperature, toxic, lethal, carcinogenic, flammable, expensive, caustic, heat transfer, corrosive, aggressive, and volatile process fluids. Several HMD Kontro models are available for numerous ASME and API applications. HMD Kontro pumps range in temperatures up to 750°F without any auxiliary cooling and a maximum horsepower range up to 400.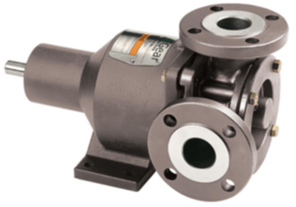 EnviroGear from PSG, a Dover company, offers a metallic E-Series mag drive gear pump, featuring a simple, unique design that has only seven primary parts and a patented between-the-bearing support system that reduces shaft deflections.
Complementary Technologies
All three of these pumps are complementary and form a trinity of possibilities: a nonmetallic centrifugal pump, a metallic centrifugal pump, and a gear pump that are all mag drive with sealless technology. One plant may commission all three of these pumps to address various applications - from the harshest to less severe.
Because ANSIMAG, HMD Kontro, and EnviroGear are all ANSI (American National Standards Institute) pumps, they can be easily configured into your process, just by lifting out the failing unit and replacing it with the new - often without changing your piping.
Why Sealless? RELIABILITY
Mag drive pumps have become the standard for low maintenance and reliability, the latter having become a very popular term in our industry. We typically interface with purchasing, engineering, or maintenance managers, but what is becoming more and more common in industry today is Reliability Engineers. Their job is to find where they are spending too much money on pumps, which typically are mechanical seal, i.e., expensive and difficult to replace. We are finding that the versatile sealless pump can eliminate that reliability issue.
With sealless technology, you can eliminate the need for that seal, giving you a more cost effective, simpler, easy-to-maintain, long-term, and safer solution.
Application Focus - It's Local
Sealless mag drive pumps are found in industrial applications - from steel pickling to wastewater - but I would like to highlight an application right in our own backyard here in western Pennsylvania.
West View Cunningham Co. (WVCC) is centrally located in the Marcellus Shale natural gas region, which has made us the go-to source for field service companies. Sealless pumps are found in the entire spectrum of the oil and gas industry, but are more popular upstream and downstream, as opposed to midstream.
Just an overview: Upstream in the oil and gas industry is where they are performing horizontal drilling and hydraulic fracking, for example. Midstream is where they are taking the gas and pumping it out of the ground, splitting it, and creating byproducts. The downstream sector is where processing, refining and purifying occur, as well as the marketing and distribution of products.
A popular application in the upstream market is brine (salt water) transfer for fracking. That is where you will find ANSIMAG pumps. Brine tends to crystallize, which accelerates wear on mechanical seal faces, resulting in excessive leaks. Brine used in fracking also has a hazardous radioactive signature that makes the standard zero emissions feature by ANSIMAG attractive.
In this region, wet gas is found and has many uses, unlike the dry gas found in northeastern Pennsylvania, which does not require further processing. When wet gas is taken out of the ground, it is sent to processing plants where it is split off into the "-anes," such as propane, butane, and ethane.
An example of a downstream application is the large Shell ethane cracker plant in Monaca, PA, which is breaking down ethane into smaller molecules to create ethylene, used for plastics manufacturing. HMD Kontro is very popular in the downstream for processing facilities at end-user chemical plants, such as Shell.
The chemical industry in our Ohio River Valley will flourish once again because the local oil and gas industry will provide good feedstock.
The Importance of Paying Attention
Sealless has become a preferred choice for the referenced oil and gas applications, but it is not always the best alternative. In processes that pump heavy slurries or high-solid content, sealless is not typically the best technology. Sealless centrifugal pumps thrive on water-like fluids, and even some abrasive or lime slurries, but every case is unique. Concentration levels, in combination with temperatures and other variables, need to be examined.
It is best to work with a distributor who has a wide portfolio and a neutral perspective. The bottom line is that the distributor needs to specify the best equipment for that application, whether it is sealless or not.


In Closing
There's a wide range of benefits and features with these sealless products, so trust a distributor that can work closely with you. A full line of custom application work needs to be performed in the design of the pump, as well as in an engineered system. That's why it's important for a distributor to have engineers on staff.
Tom Plank is President of West View Cunningham Co, a distributor of pumps and engineered systems for industrial, commercial, and municipal applications in western Pennsylvania, eastern Ohio, eastern Kentucky, West Virginia, and western Maryland.