You want your manufacturing process to run as smoothly as possible so you can achieve maximum energy-efficiency and profit. To achieve maximum efficiency for the entire process, each component must be individually optimized to function efficiently as part of the whole. The pump is one of the most important pieces driving the operation. Because it endures so much wear and tear, here are a few reliable and durable products you should consider:
Sundyne ANSIMAG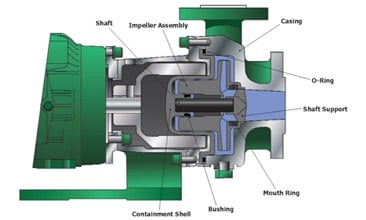 The Sundyne Ansimag sealless magnetic drive pumps are reliable and more energy-efficient than chemically-sealed pumps for several reasons. The magnetic drive of the Ansimag product eliminates the need for a seal by using magnets. Where in a direct-drive pump the impeller of the pump attaches to the shaft of the motor, the shaft of the Ansimag motor doesn't extend into the pump. The wet end of the pump and the motor are contained separately so a seal isn't required. The seal on a direct drive pump is more likely to corrode and cause leakage than any other part of the pump. With a magnetic drive, you can remove seal maintenance from your budget and increase energy-efficiency. Eliminating the seal on your pump also reduces the risk of leaking hazardous chemicals into the environment.
We recommend the Ansimag for the chemical and steelmaking industries. This pump is also effective for water treatment, but more commonly used in steelmaking. Check out this video and animation to learn more about the Ansimag pump.
FLSmidth Dorr-Oliver EIMCO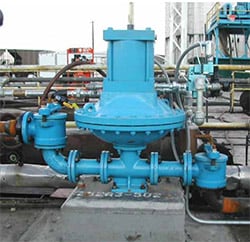 FLSmidth is an international supplier of equipment for the cement and minerals industries. Their ODS air-operated diaphragm pumps are designed to move thick sludges that other pumps can't handle. If you're looking for something durable, yet low-maintenance, to withstand relentless, heavy-duty work, the FLSmidth diaphragm pump is one we highly recommend. It uses a positive displacement method to move fluids push fluids through the valves. When the diaphragm flexes, the volume of one chamber increases and the other decreases, forcing the fluid to move. This multi-purpose pump is designed to outlast competitors.
By eliminating the need for a stator or a seal, it's an extremely low-maintenance pump. It's also easy to adjust the capacity and discharge pressures while in use so you can achieve maximum efficiency. We recommend the ODS air-operated diaphragm pump for those in the steelmaking, mining, and chemical industries.
You can learn more about the reliable products and valuable services we can offer by contacting us!