If you work in a manufacturing environment involving high-temperature applications (500°-800°F), there's an excellent chance that you're using hot oil pumps to heat resins, dryers or other materials or equipment used in your production process.
Sealless magnetic drive pumps, such as the HMD Kontro pictured, offer these benefits:
Zero Emissions

No Mechanical Seals

Reparable Onsite

No Cooling Required

Safer Operation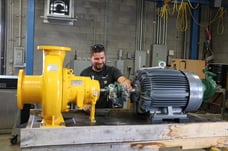 When it comes to maintenance, sealless magnetic drive pumps offer efficiency, reliability and low maintenance. There are no mechanical seals that can leak, and they can be repaired onsite. HMD Kontro offers parts interchangeability across several models. 150# and 300# suction and discharge flanges are readily available, depending upon system requirements.
Our diagnostics capabilities to help you prevent and solve issues related to optimization of hot oil pumps and pumping systems include monitoring:
Vibration

Power Control

Flow

Pressure
Key Specifications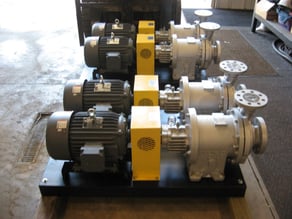 The HMD Kontro CS (Chemical Service Sealless Magnetic Drive Pump) pictured can:
Flow up to 1,760 GPM
Head to 490 ft.
Operate at Temperatures Ranging from -112° to 850°F
HMD Kontro invented sealless technology more than 70 years ago and remains the gold standard in hot oil pumps and in other kinds of sealless pumps due to ongoing investments in R&D.
The most common hot oil applications for our customers include:
Chemical Manufacturing & Processing
General Industrial
Midstream Natural Gas Production
OEM Systems
Other applications for which hot oil pumps can be used include:
Autoclaves
Building Heaters
Calendar Roll Heating
Crude Oil Heating
Heated Molds or Dies
In-Line Gas Heating
In-Line Liquid Heating
Indirect Steam Generators
Jacketed Vessel Heating
Natural Gas Heating
Ovens & Fryers
Platen/Press Heating
Process Reboilers
Reactor Vessel Heating
Suction Heating
Tank Heating
A Practical Alternative
If you're using a Dean Pump or any other mechanical sealed pump, consider switching to a sealless pump to improve workplace safety (no hot oil leaking on the shop floor when a seal breaks) and reduce the probability of downtime.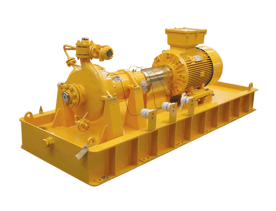 Such periods of inactivity could be extensive given that many mechanical sealed pumps are manufactured overseas and must be sent abroad for maintenance and repair that can take weeks or months.
In fact, the reduction or elimination of downtime with a sealless pump can provide you with an ROI period as short as one year!
At West View Cunningham, we can help you choose the best hot oil pumps or pumping systems for your application based on these characteristics of the oil you're handling:
Clean
Dirty
High Viscosity
Low Viscosity
By using the proper hot oil pump in your manufacturing or processing environment, you'll avoid experiencing dry running, deadheading, excessive solids buildup and other conditions that can damage your pumps and cause expensive downtime.
Learn more about HMD Kontro CS Pumps and be sure to