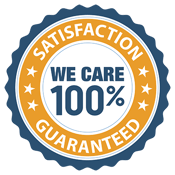 Despite performing a relatively simple function, pumps are actually complex tools that require knowledge and experience to repair and maintain. While many pump providers can help you select a pump, none are as experienced when it comes to service as West View Cunningham Co. Not only can we help you find the right pump for the job, but we also have a full service shop. Who better to assist you and answer all your questions than the experts who sold you the product? We value the relationships we build with our customers so we want to make sure you're satisfied. Here are a few ways we offer the best service:
1. Experience
West View-Cunningham Co. was established in 2003 resulting from a merger between West View Equipment and Cunningham Pump & Supply Company. Together as WVCC, this merger offers the best services and supplies available. With over 60 years of experience in the pump industry, our customer service and expertise are unmatched. At our shop, you'll have access to a team of reliable professionals committed to getting your operations back on track.
2. Reliability
WVCC understands the importance of customer service better than most. Instead of just selling you a product and sending you on your way, our experienced professionals can help you with every step along the way. From installation and startup services to maintenance and repair, we can guide you from beginning to end.
3. Cost-Effective
We save you money by minimizing downtime. Our factory-trained technicians will identify the problem and repair your pump quickly so you can get it up and running again. Having the pump break down will halt production and cost you in profits and emergency repair. While WVCC has 24/7 emergency service for these occasions, our team of experts can also help you with preventative maintenance. Proper preventative maintenance will prevent your pump from breaking down unexpectedly so you don't need to use our 24/7 emergency service.
If you have a pump problem or question, feel free to contact us! We have a full service engineered pump and repair shop in Oakdale, PA. Only 14 miles west of Pittsburgh, our shop is conveniently located to service Western PA, West Virginia, Ohio, and Maryland.